T-shirts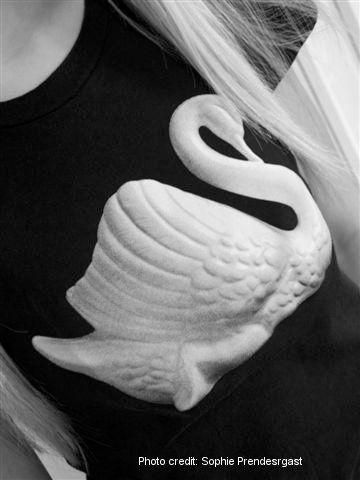 Elina, seen wearing the smallest size swan t-shirt, at the exhibition Crown Lynn: Pottery for the People at the Gus Fisher Gallery.
Iconic off-white vase image on a 100% organic pre-shrunk 160 GSM cotton t-shirt. An especially nice fit. Designed and screen- printed in New Zealand. (new price $49.00)
Designs and availability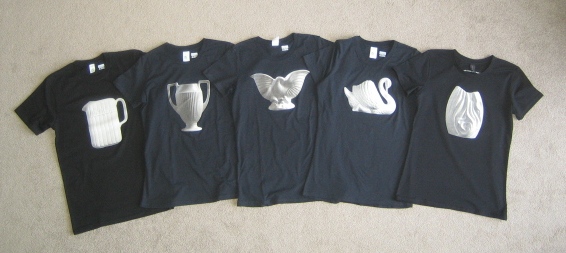 From left to right:
McAlpine jug (men's only)
Amphora vase (only very limited men's )
Nautilus vase (no stock)
Swan vase (women's only)
Tree trunk vase (prototype – only 2 or 3 women's M left – please enquire)
FREE GIFT WITH BLACK-T-SHIRT PURCHASE
Buy a black T-shirt and get a FREE GIFT white T-shirt from the "I knew what I wanted to do and why did I let myself be persuaded" department:
GIFT DEPENDS ON AVAILABILITY
There are just 15 T-shirts with white vases printed on white organic cotton - when they are gone, they are gone....
Men's white T-shirt nautilus and amphora: L and XL sizes, only 1 available of each style/size.
Women's white T-shirt nautilus: only 1 available in each size XS to XL.
Women's white T-shirt amphora: S and M sizes, only one of each.